Preparing everyday food is a process that involves undesirable fumes, grease and smoke collection. This can be an eyesore and at the same time unhygienic. Electric chimneys for kitchen are also called range hoods or exhaust hoods and they are specifically designed for drawing out the odor and the smoke that are a result of cooking. They help in keeping a kitchen neat and tidy. Therefore, it is very important for individuals to choose the right electric chimneys for their kitchens from a wide assortment of these products available in the market.
Top 10 Electric Chimneys for Modern Kitchens
Available in varied suction capacities and customized for kitchen of different sizes, you can easily get hold of the best electric chimneys for kitchen as per your individual requirements. Boasting of features like multi-speed function, stainless steel construction, oil collector, in-built counter lights and more, the modern electric chimneys come fully equipped for taking care of the hygiene of the kitchen along with its maintenance and safety. Make your choice of the best selling electric chimneys from the list of top 10 products in this category detailed below: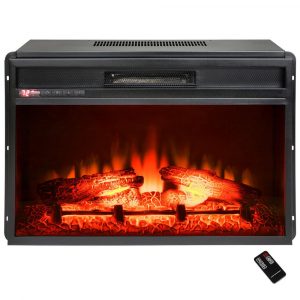 The best electric chimney for modern kitchens, this model from AKDY is basically an island mount exhaust hood that has been made keeping practicality in mind. It is a product that comes powered by a 400 CFM motor that is absolutely silent and is thus a convenient product for your kitchen. There are two baffle filters that are dishwasher safe and they work by pulling unwanted grease from air. There is even a four speed fan that allows the users to control how quite and strong they want it to be. Yet another attractive feature of this item is its halogen light sources that brighten up the cooktop.
Convertible Range Hood Best for Modern Kitchens
Made of dual screen touch interfaces, this model is ideal for all kinds of kitchen islands. It also comes with a remote control offering hands-free usage. There is a timer making way for delayed shut offs. Moreover, this electric chimney comes with a warranty of three years. It is a convertible electric chimney that can be used ductless or ventless with carbon filters for homes that do not have any venting options.
Quit smoking in your kitchen by going for the Faber Tender 3D Hood Chimney. This is the world's only 3D hood chimney that showcases the T2S2 Technology. Ensuring more than 90% efficiency, this electric chimney from Faber will help you in conveniently joining the Quit Smoking in the Kitchen movement. This is the right product for you if you want to start cooking in a smoke-free and healthy environment. The 3-way suction capacity of this model draws all kinds of pollutants out of the kitchen and that too without taking a huge amount of time. The best thing about the suction capacity of this product is that it covers around 25% suction area.
Exclusive Features of the Faber Tender Hood Chimney
For better grease reduction and also for perfect noise reduction, the Faber Tender Hood Chimney would surely serve as your best choice in the category of electric chimneys for kitchen. It features triple layer baffle filters that help in creating an impenetrable obstacle for grease. The filters in this machine have been specifically designed to chop out vapor. This further helps in the separation of grease particles making extraction a possibility. Zero clogging ensures complete and effective suction even at a low speed. The filters are made using stainless steel which means they are hard-wearing. The stainless steel construction also offers the hood a professional appearance.
This is probably one of the best electric chimneys for kitchen as it blends perfectly well with a kitchen of any style and décor. It offers great functionality value to your kitchen while sprucing up its appearance in the best way possible. This is a robust electric chimney that will offer continued service and that too without taking up a lot of kitchen space. The best thing about this appliance is that it is powerful but small and will never disappoint you as far as its performance is concerned. The elegant and sleek Elica Spot Power Plus Chimney features a recycling and ducting design that enhances the gracefulness of any kitchen. Easy to maintain and durable, this model is made using stainless steel and glass.
LED Lights and Touch Control
The 60cm Elica Kitchen Chimney will not only complement the décor of your kitchen but will also make it easier for you to prepare meals for your family. One of the best features of this electric chimney is that it comes with LED illuminations that are highly power efficient. These lights also require very little maintenance. Another good feature of this product is that you can control it by making use of touch buttons. So, if you are in the look out of a smoke-free cooking experience in your kitchen then the Elica Spot would be the one of the best electric chimneys for kitchen worth the price that you pay for it.
Glen Stainless Steel 90 CM 1200M3H Auto Clean Chimney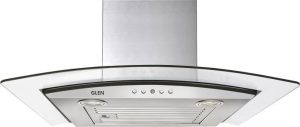 Are you simply tired of soaking in all the kitchen odor and smoke throughout the day? If this is the case then you must definitely make the choice of Glen Stainless Steel Auto Clean Electric Chimney. Easy to use and convenient to maintain, this electric chimney from Glen is highly efficient at plunging out all kinds of humidity, dust and odor from kitchens while making cooking a procedure to be loved. By incorporating this smartly designed, low noise and energy-efficient electric chimney in your kitchen design, you would get the ability to breathe fresh and stand tall. Glen's proprietary soft touch panel serves to be as graceful as it is easy to maintain and operate. This is one electric chimney in the market that offers the perfect balance between energy efficiency, noise control and power.
Energy Efficient and Powerful Electric Chimney
Avail high airflow in your kitchen with low energy usage and low noise of the Glen Stainless Steel Auto Clean Electric Chimney. This is one product that will surely offer you increased comfort in the kitchen. It even features high lumen LED glows along with top quality aesthetics for a satisfactory cooking experience. the warranty cover available with this product gives users the confidence of using it for years without worrying about failures.
Carysil Calypso 60 cm Cassette Filter Electric Chimney
If you are facing a lot of trouble while preparing meals then you must definitely get the Carysil Calypso 60 cm Cassette Filter Electric Chimney. Boasting of an easy to use push button panel, this is a sleek wall mount electric chimney that will serve as your best friend in the kitchen. The body of this product is made of good quality stainless steel whole it is available in white color. The chimney comes with a suction power of 800 m3 per hour and even includes CFL bulbs for offering ample illumination. It is one of the best electric chimneys for kitchen especially the modern ones mainly because of its compact design and style.
Cassette Filter for Perfect Filtration
The cassette filter of this items measures 23.62 inches and offers good quality filtration. With this item being properly installed in your cooking space, you can remain assured of having a kitchen that is free of smoke, grease and foul odor. The warranty cover available with this product ensures the durability of the chimney and also makes it evident that you will be using it without any worries of product failure.
The range hoods available from Zuhne are UL certified ultra premium ranges and they are made using the most highly advanced facilities. Top quality stainless steel has been used for making the body of the Zuhne Taurus Kitchen Wall Mount Range Hood. The company combines cutting edge robotics and deft artistry for delivering the best electric chimneys for kitchen that come with the ability of lasting for a very long time and this goes even with heavy usage. This model from Zuhne makes use of lead free and non-toxic materials for offering the best performance. It offers great durability which does not come at the expense of function or flair.
Stylish and Aesthetically Appealing Electric Chimney
The satin premium finishing of the Zuhne Taurus Electric Chimney is scratch resistant and it exudes a grained, natural pattern. The chimney also comes with a soft and soothing glow that tends to get better over time. the best thing about this product is that, whether you want to cook regularly or not, it will help you in sprucing up the appearance of your kitchen. It is easy on the eyes and perfectly blends with the other stainless steel appliances used in the cooking areas. This zero-welding electric chimney from Zuhne offers seamless aesthetics from all viewing angles. The baffle filters of this product are dishwasher friendly and stylish at the same time.
Seavy 60 CM Kitchen Chimney with Baffle Filter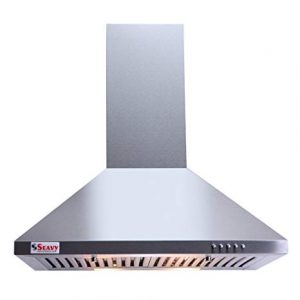 Using this hooded electric chimney from Seavy is quite simple. This is a unit that features an easy to use push-button panel that offers complete ease of control. The well-marked and prominent buttons are committed to varied functions that make it a dream electric chimney to be used by every individual. It is a highly efficient and one of the best electric chimneys for kitchen coming with a powerful motor that sucks surrounding air efficiently at the rate of 1100 m3 per hour. This chimney boasts of a highly impressive suction potential making it the perfect addition to all kitchen styles and décor.
Cooking at its Best with the Seavy Electric Chimney
Air sucked in by the chimney is free of grime and oil. this allows the user to cook in an environment that is fresh and vibrant throughout the day. With this product installed in your kitchen, you will be able to prepare as many dishes as you want without going through the hassle of handling the greasy consequences of culinary pursuits. The best thing about this product is that it will offer you a different kind of excitement to work in the kitchen knowing that your space is fully protected from grease, smoke and odor. You will also get a warranty covering the product so that you can use it without any worries of failure for years to come.
Gorgeous and elegant, this electric chimney from Fotile will serve as one of the best additions to your modern kitchen. It is made of top quality solid stainless steel and black glass. The O-touch design of this product highlights the perfect amalgamation of art and technology. The wing-like plates of this product and its corrugated net can easily be assembled and even washed without any major problem. There is a big oil cup that is made of stainless steel and it comes with the capacity of proper cleaning and dumping.
Kaff Fim Bf 60 CM 1080 M3H Hood Chimney
The Kaff Fim Hood Chimney is also considered one of the best electric chimneys for kitchen mainly because of its versatility and its durability. It pulls heat in a matter of few seconds and boasts of an impressive design as well.
Bring home the Kitchen Bath Collection Range Hood and experience a difference in cooking like never before. This is one product that will not only lend you the comfort of cooking in your kitchen but will also offer great style to the space.
Conclusion
If you want to cook the most delicious meal without choking yourself with the overpowering aroma of spices then go for the best electric chimneys for kitchen.